Sopot [PL] February 2020 – ongoing
Inne Rytmy (Other Rhythms) is a serie of art events organised around grassroots social movements, physical and imagined space and the rhythm of everyday revolutions.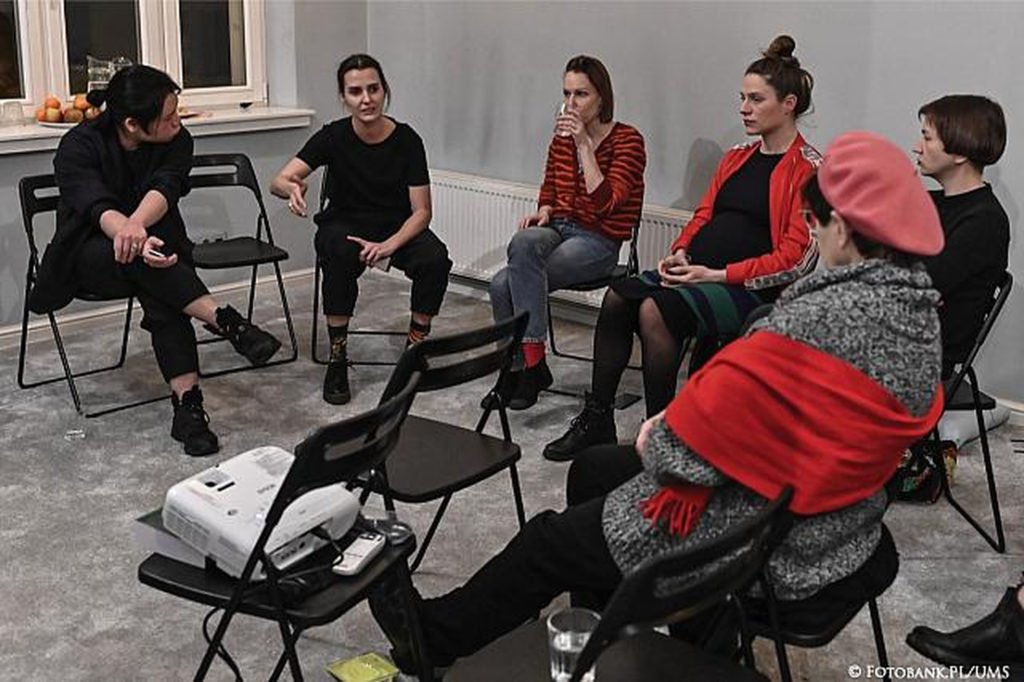 Since February 2020, Inne Rytmy has presented artworks and public discussions in the Goyki 3 Art Inkubator and Sopot Centrum spaces, a month-long artist residency in Sopot and a workshop 'Guest – Host Relationship. Strategies of hospitality" co-led by Julie Sokolnicka and Tatiana Dziewanowska. In September 2021 an exhibition of Sokolnicka's works Inne Rytmy: Sopot took place.
The project is curated by Wera Morawiec.
Exhibition: 24.09 – 10.10.2021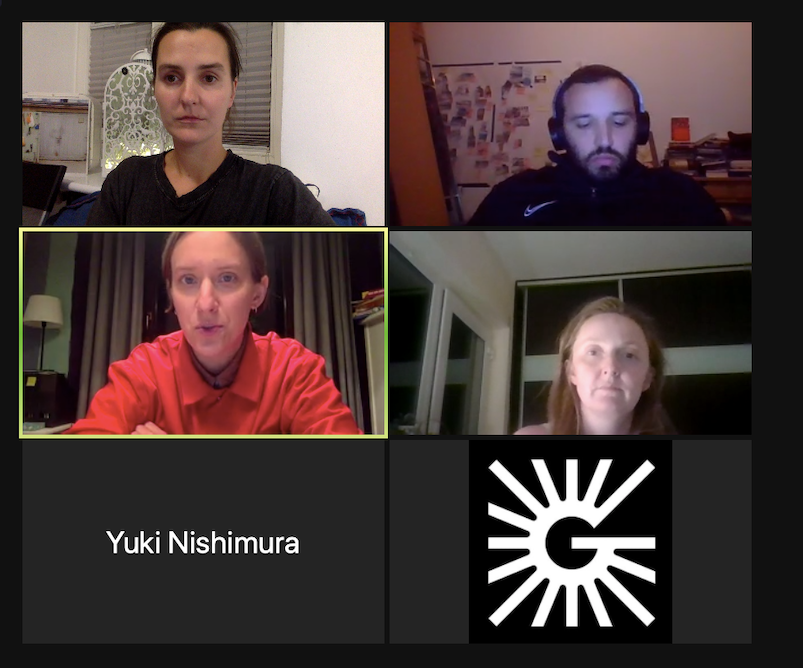 Invited artists: Julia Sokolnicka, Wael el Allouche, Yuki Nishimura, Anna Steller, Tatiana Dziewanowska, Michał Jeziorski
Foundation:
1
The baseline – or even more: a common ground for our narrative was a chapter from Raoul Vaneigem's book The Revolution of Everyday Life titled The Reversal of Perspective. The author is introducing his ideas by a short and rather dramatic story about a wise man who taught a whole village how to deliberate, question the social order and examine the individual needs in collective good context. In a small amount of time seeking for truth and physical activation of the people led to upheaval and changements in the community's power system.
In this text from the last century's 1960's Vaneigm in just a few sharp lines describes exactly what we, as humanity, are stuck in nowadays; helplessly observing convulsing moves of political and economic giants who rule the world: Caught as we are in the historical phase of NOTHING, the next step can only be a change of EVERYTHING.
Consciousness of total revolution, of its necessity, is our final way of being historical, our last chance, under certain conditions, of unmaking history. The game we are about to play is the game of our creativity.
According to the book's manifesto for the Reversal of Perspective these three basic and unanimous elements of social activism is needed: participation, communication and realization – meaning actual doing, the opposite of being hung on theoretical discussions. Today we probably could have added here "…and signing facebook-based petitions".
The core of everyday micro-scale, but unstoppable in time, revolution is a sense of subjectivity, in other words: a sense of agency (a sense of having influence on one's own life). The source of this can be precisely the recognition and direction of the energy flowing from movement: everyday gestures, festive dances, ritual steps leading us along different paths of night and day.
2
Dance, or more broadly, movement in space (both private or public) has for a long time played a role that is not only entertaining or culturally creative (generally and abbreviatedly speaking, because dance has many other roles that are difficult to summarize here) – it is also a basic tool of resistance, available to every human being, without division into classes, races or education.
It can be a final gesture (like standing in front of a tank on Tiananmen Square 1989 or in front of the Ataturk Cultural Centre in 2013), it can be the basis for creating a spontaneous, synergistic power – like in Georgia, where club members started a two-day rave outside the clubs in May 2018 and led to negotiations on changes in the drug law. Such grassroots, non-political collective movements were also present in North Africa during the various protests related to the Arab Spring.
It seems that those who think together – dance together* and vice versa: that is, where people join together in the movement the principle of identification with the group can work much faster and more strongly. And those who think and discuss together over the postulates also more often move together in (and around) the city.
So there is movement, moving oneself, or dancing the sphere where all three components necessary for the Reversal of Perspective can be combined: participation, communication (because movement/gesture is the universal language of many species) and realization in a specific space-time frame, in a specific body.

3
A serie of artistic events Inne Rytmy: nonviolent revolutions is primarily an invitation to get involved: by being in space with the artists, through discussion, and through creative research and work by the artists to demonstrate how physical changes in the smallest cracks of everyday life can lead to new social orders and to better quality of relationships between participants of life. I deliberately do not define "participants" here because we would not like to define separate categories, but rather to highlight the equal importance of all the elements that can activate and alter the situation. And these can be both intra-psychological elements, such as the relationship between the subjective sense of happiness and the amount of dopamine in the brain, the interpersonal relationships that spread in the local social network, but also inter-species relationships that affect the quality of everyday life: with AI technologies, with animals, with plants, and outside-of-species bonds: with history living in architecture, with the space available around.
During a few days in Sopot we invite interested residents and guests to actively observe the process of creating leaven for future activities in the field of social art and art that reflects – or reinterprets – the patterns and rhythms of everyday life in this city. The group of international artists and activists in February 2020 will focus on presenting their ideas and defining their way among the emerging themes: the presence and activity of the body and physical culture in the socio-cultural space of the city, the importance of individual determination and everyday life, the conscious pursuit of change and the depiction of already existing and future revolutionary movements – drawn in a non-violent spirit, but with strong and unambiguous gestures.

*****footnotes*****
*chapter 19: The Reversal of Perspective, The Revolution of Everyday Life 1963–1965, Raoul Vaneigem,Retrieved on May 14, 2009 from library.nothingness.org, theanarchistlibrary.org
**I refer to (successively): Tank Man of China from 5th June 1989 in Tiananmen Square immortalized by the photographer Jeff Widener and to the action of Turkish choreographer and dancer Erdem Gündüz, who stood on 17th June 2013 on Takim Square in Istanbul in silent protest against political decisions.
*** from: Jeśli nie mogę tańczyć, to nie moja rewolucja text from Ruchy Oporu , Anka HerbutRetrieved on February 02, 2020 from issuu.com/ankaherbut/docs
**** from the name of meeting/dancing organized by The Africa Cluster of the Another Roadmap: People Who Think Together Dance Together
Sopot Centrum exhibition, 2020

Sopot Centrum exhibition, 2020

Artist presentation, Goyki 3 Art Inkubator, Sopot, 2020

Sopot Centrum exhibition, 2020

Yuki Nishimura and Wera Morawiec

Public discussion, Goyki 3 Art Inkubator, Sopot 2020

Research visit in Sopot, 2020

Sopot Centrum exhibition

Sopot Centrum exhibition

pic. J.Sokolnicka

Still from "Rzeka Monciak" video by Julia Sokolnicka, 2021

Screen from curatorial text

Inne Rytmy:Sopot, exhibition view, 2021, pic. B.Kociumbas

Inne Rytmy:Sopot, exhibition view, 2021, pic. B.Kociumbas

Hospitality workshop, Sopot, 2021, pic. W.Morawiec

Open Studio online, during Julia Sokolnicka's AiR, 2020, Goyki 3 Art Inkubator Sopot